Patrick comes to Happy Pappy Acres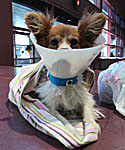 Patrick Allen Leighton is a rescue dog from a shelter in Las Vegas, NV whose birthday is unknown so the day of his adoption is his birthday, June 26. He is about a year and a half old and is believed to be from an illegal puppy mill.
Patrick was spotted on the web by the Happy Pappy Crew (William and I) and we were immediately drawn to him. My daughter, an extended member of the Happy Pappy Family, lives in Las Vegas and went immediately and adopted Patrick. I brought him home the 4th of July weekend.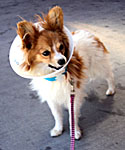 He loves his new home and the special meals served here. He loves the freedom of running in the yard and exploring his big new world.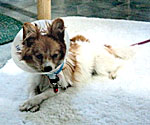 When I first met Patrick he was wearing a cone to protect his stiches after being neutered. He didn't like his cone and was so happy to get it off! He's so happy to be free and loved.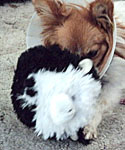 He loves to cuddle and chew on his many toys. He only weights about 4 pounds and is a bundle of love.